TWO DESTINATION LANGUAGE/KATHERINA RADEVA
★★★★ The Guardian "an exercise in generosity of spirit"
★★★★ The Scotsman "all about forward motion, about moving on and up, about embracing life"
★★★★ Corr Blimey " entirely in the moment"
★★★★ The Quintessential Review "a welcome invitation to celebrate the entire messy experience of being a human"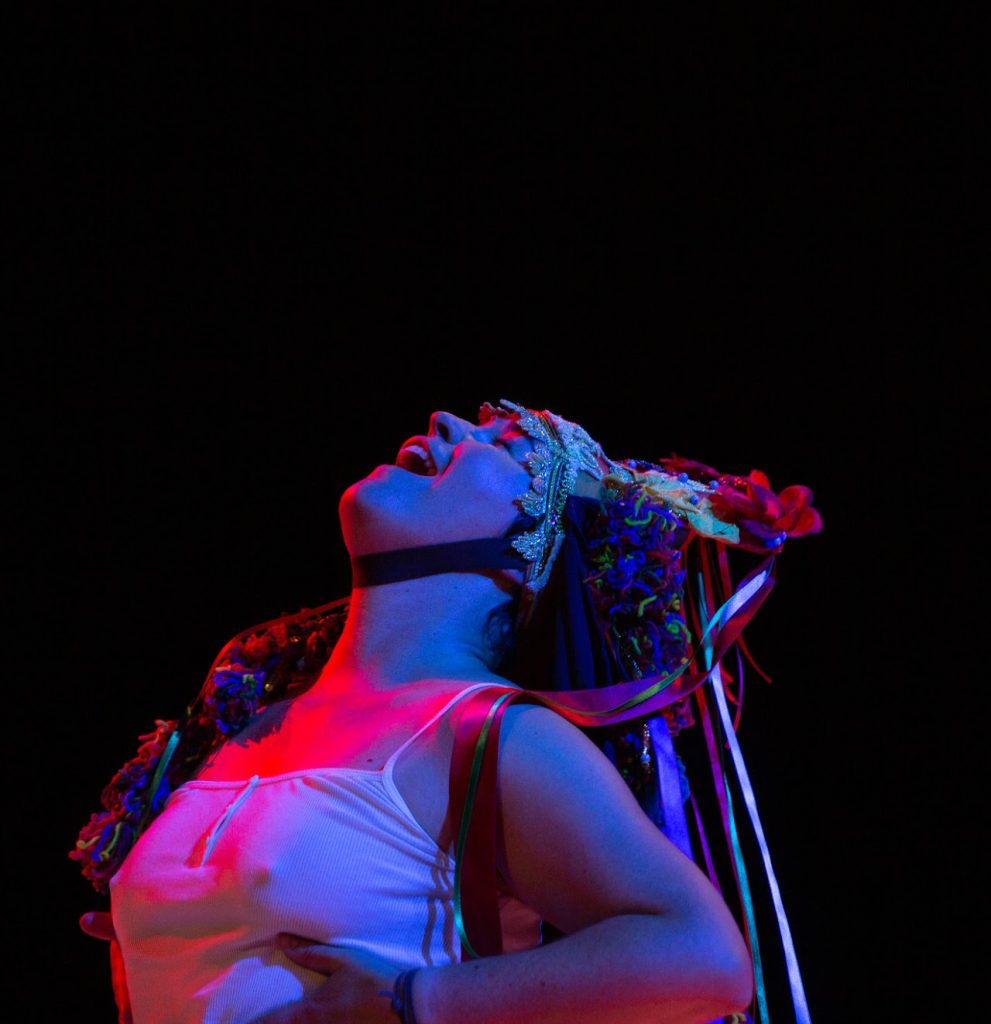 40/40 is an inspiring, insightful and moving celebration of Katherina Radeva's 40 years as a woman, a migrant and an artist. Claiming space on a dance floor for one, she writes stories of her past, present and future, in speech, in electrical tape and in movement. 
From the little girl dancing at her parents' student parties, to the teenage rhythm gymnast who was body-shamed, to the creative who refuses to be categorised we see a choreography of all the joys and sorrows of 40 years. Radeva is an irresistible performer whose authenticity and generosity shines in this life-affirming piece.
Supported by three brilliant female choreographers – Liz Aggiss, Lucy Suggate and Rachel Krische, Katherina's 40/40 is the result of 40 years of joy, migrancy and hardship, laughter and tears, super tunes and super moves. Join the middle-aged woman revolution by dancing, claiming and reclaiming the beautiful, glorious and messy complexities of womanhood.
Content warning: nudity, heavy breathing, middle aged woman dancing with much joy
"Katherina Radeva's 40/40 is an absolute joy" Lyn Gardner, Stagedoor
"You must see 40/40 by Katherina Radeva and Two Destination Language – without doubt the most alive, in the moment and reflective show I have seen over the last 10 days. A piece which understands that context is all" – Lyn Gardner
"Go and see Katherina Radeva's open-hearted, full bodied empowered and empowering dance show 40/40" Dance Critic Donald Hutera
About Katherina Radeva
Katherina Radeva is an award winning performance maker and scenographer. Her work as co-artistic director of Two Destination Language, alongside Alister Lownie has extensively toured in the UK and internationally. 
Often using biographical starting points the work is visually stunning and intellectually stimulating. It is punchy and political. Her signature rawness and honesty in performance has captured numerous accolades over the years. As a first generation migrant from Eastern Europe she often foregrounds experiences of migration, embracing and celebrating cultural differences, identity, boundaries and joy.
Previous work includes the multi-award-winning Near Gone, Fault Lines, Manpower, Declining Solo and Fallen Fruit and collaborations with Scottee, Selina Thompson, Scottish Dance Theatre, Jo Bannon, Demi Nandhra amongst many others. www.katherinaradeva.co.uk
About Two Destination Language
Two Destination Language is the multi-award-winning collaboration between Katherina Radeva and Alister Lownie. A first generation migrant woman from Bulgaria and a Scotsman.
Their work is often interdisciplinary, bold and political. Their performances draw textures from the visual arts and intersect with theatre, dance and live art. Visually stunning and intellectually stimulating it leaves the viewer asking more questions than giving straight answers in an attempt to nudge its audience into a caring space of nuance and complexity of the multi-layered human nature.
Their work tours extensively in the UK and internationally and can be seen on stages, with communities and in publications. Dialogue is a prime foundation of all their work.