Wainsgate: simply a place of worship?
An item as simple as a coat hook can symbolise the individuals to whom the chapel was part of life. Through taking the time to think about such objects, we remember those who have walked through the doors throughout the chapel's history. Every single person a piece of the rich fabric of Wainsgate and a member of its community.
Who has hung their coats?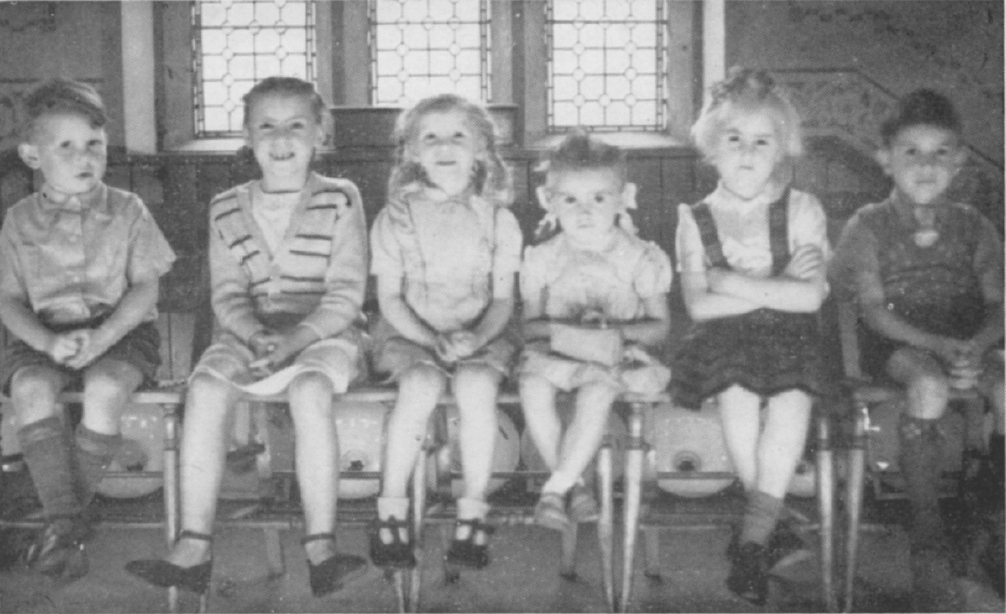 Children in the Sunday School at Wainsgate Mid 20th Century
Joseph Greenwood's words about life at Ebenezer Wesylan Methodist Chapel in Luddenden invite us to imagine the children arriving for Sunday school, lunch in tow. "On the boys side there were two long rows of hat pegs, where might be seen hanging an interesting batch of indescribable parcels." We know that children sometimes walked for miles to attend Sunday school and the school at Wainsgate would have been no exception.
Sunday School at Wainsgate.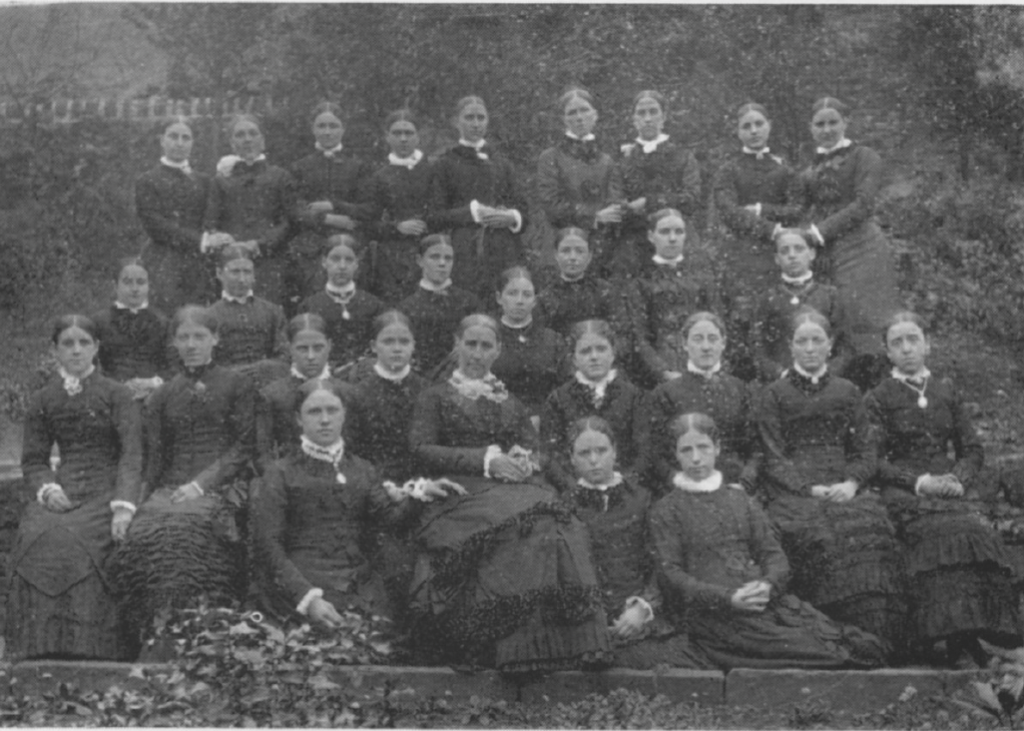 Young ladies class in 1885
The Calder Valley was one of the first places in Britain to experiment with Sunday schools. Ann Kilbey writes that 'by 1833-49 in upper valley 9,669 children were enrolled in Sunday Schools and 80 percent of those were enrolled in non-conformist chapels,' which were impressive numbers indeed. The community saw an opportunity to educate their children at a time that the state made no provision for this and Wainsgate was no exception. Wainsgate Chapel was therefore a place of worship, community and education, and for some of the congregation, this was a building through which they lived their entire lives.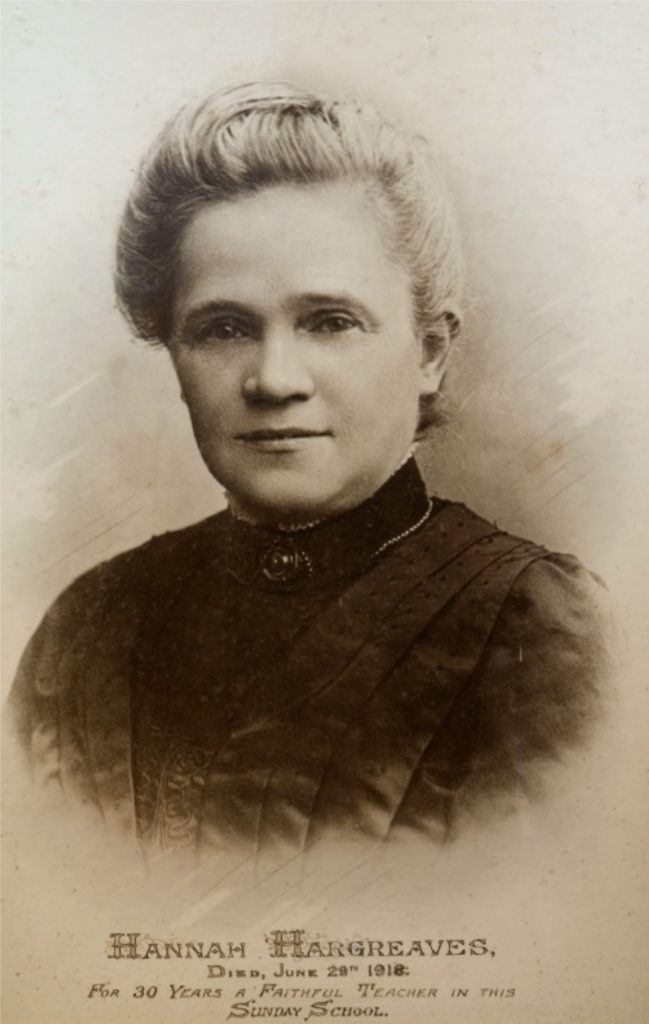 Hannah Hargreaves was one person who it could be said lived her life through the chapel. She was a teacher at the Sunday school for 30 years and 'probably lived in Wainsgate Lane for her entire life.'
Daughter of Richard and Mary Hargreaves, she probably lived in Wainsgate Lane for her entire life. She never married, and worked as a fustian tailoress. At the end of her life she was living alone in Wainsgate Lane, her parents, brother and sister having predeceased her: all of them buried in plot A399 at Wainsgate. The framed photograph of Hannah displayed at Wainsgate is inscribed 'For 30 years a Faithful Teacher in this Sunday School.'
Words by Chris Barnett – The Wainsgate Graveyard Project.
Find out more about the Sunday school HERE


Although the coat hooks that we see today would certainly not have been here in the time of the first chapel, the sense of community certainly was.
The first chapel was built at Wainsgate in 1750 with Dr John Fawcett became minister in 1764. The sense of community and belonging that was felt between the congregation and also its ministers were clearly evident, even in the early days of the chapel's life. Sources record that Dr, John Fawcett was unable to leave his congregation to preach in London due to the 'ties' he felt bound him to his local community.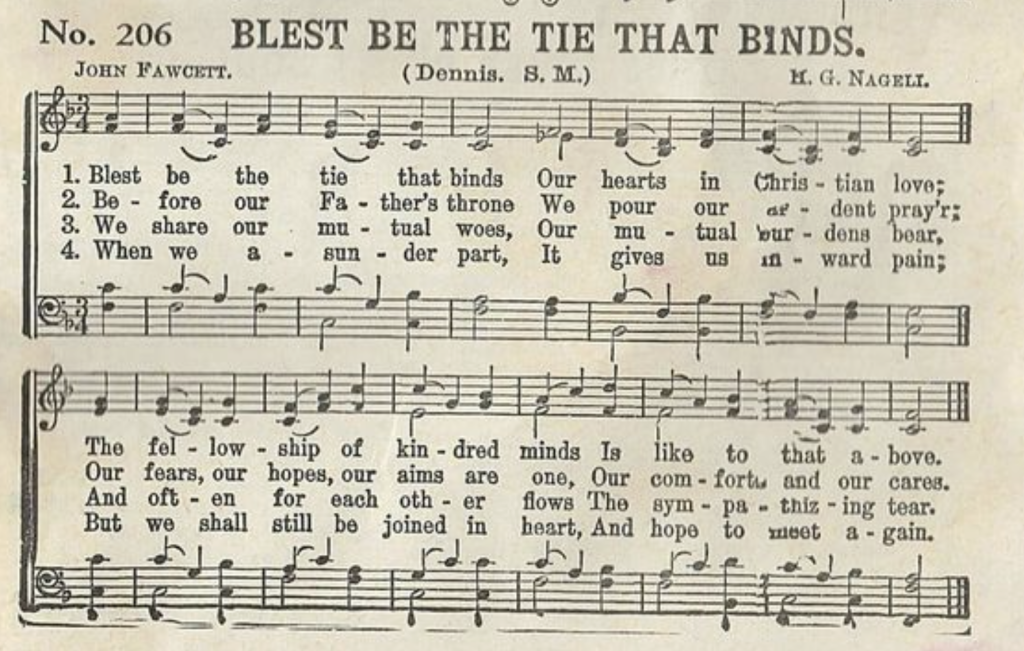 Ira D Sankey wrote:
'The wagons were loaded with his books and furniture, and all was ready for the departure, when his parishioners gathered around him, and with tears in their eyes begged him to stay. His wife said: 'Oh John, John I cannot bear this ,' to which Fawcett replied, 'Neither can I, and we will not go. Unload the wagons and put everything as it was before.'
Whether this word by word account is completely accurate we will never know but Fawcett did remain with his congregation due to his unwillingness to leave.
(Quotation from 'Wainsgate Baptist Chapel West Yorkshire: A History and a Guide by Charles W Thompson.)
Fawcett wrote his hymn 'blessed be the tie that binds our hearts' soon afterwards about his struggle to leave 'the fellowship of kindred minds' which he felt made up the community at Wainsgate.
Find out more about John Fawcett HERE
If we read the lyrics to Fawcett's hymn it is evident that there was a close bond between the congregation at Wainsgate where 'mutual burdens' were bourne and 'hopes and aims' were one.
Blest Be the Tie That Binds (John Fawcett 1782)
Blest be the tie that binds

Our hearts in Christian love;

The fellowship of kindred minds

Is like to that above.
Before our Father's throne,

We pour our ardent prayers;

Our fears, our hopes, our aims are one,

Our comforts, and our cares.
We share our mutual woes,

Our mutual burdens bear;

And often for each other flows

The sympathizing tear.
When we asunder part,

It gives us inward pain;

But we shall still be joined in heart,

And hope to meet again.
The Choir at Wainsgate: A space for worship, community and the arts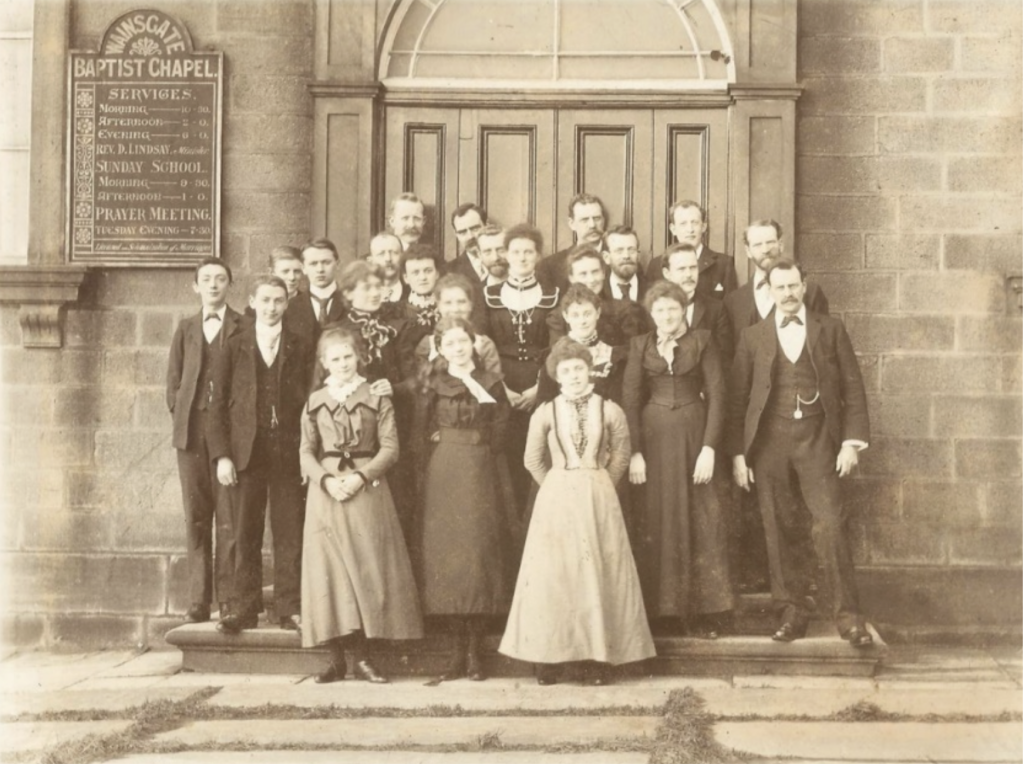 Wainsgate Choir circa 1898
Wainsgate musical society was founded in 1843 along with the Chapel Choir. The Ashworth family played a main part in the society with Richard Ashcroft being the secretary. Alice Ashcroft, remained a member of the society until 1943.
It is quite likely that Alice may have used some of the hooks that we see to hang her belongings when at the Chapel along with other members of the choir.
https://wainsgategraveyardproject.co.uk/musical-wainsgate/Find out more about the choir at Musical Wainsgate
Blest be the tie that binds gramaphone record from 1951
In 1951 a mobile recording unit from HMV visited Wainsgate and recorded two 78 rpm records of the choir singing four pieces 'carefully chosen to display the choir's finely blended tone. A 12" disc 10″ disc (B10084) with John Fawcett's Blest is the tie that binds' and the hymn 'At even ere the sun was set' by Henry Twells.
Extract taken from the Wainsgate Graveyard Project with words by Chris Barnett.
Click on the above image to listen to the recording and find out more information about the choir.
The Wainsgate Community Today
Who hangs their coats today?
Wainsgate currently runs an international arts programme with regular concerts, dance performances, open studios, workshops and residencies, as well as many other events from exhibitions and film nights to markets and heritage events, which attract and engage with communities from near and far.
Wainsgate Chapel continiues to be a place in which meaningful cultural events where heritage is celebrated as a living thing, and past, present and future all play a part in the development of a sustainable and thriving programme for all to enjoy.