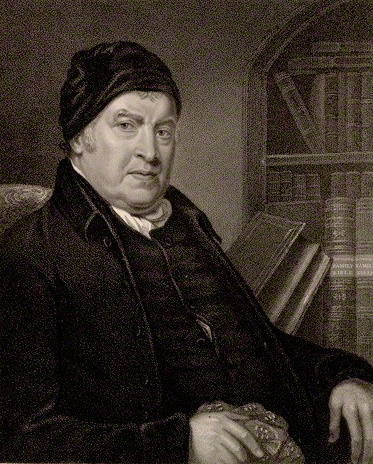 Born in Bradford in 1740, John Fawcett preached at Wainsgate several times before becoming second minister in 1763 following the death of Richard Smith. Such was his popularity as a preacher that people regularly travelled miles to his services. He became active in training ministers and in 1772 was invited to London, and was offered a lucrative ministry in Southwark. Having accepted the post and loaded his posessions onto wagons for the journey south, his parishioners begged him to stay, and he was so moved by their devotion to him that he stayed at Wainsgate. This perhaps  inspired him to write his well known hymn 'Blest be the Tie that Binds'.
In 1777 he transferred to Ebenezer chapel in Hebden Bridge, where he was minister until his death in 1817. Always a great scholar and teacher, in 1798 he set up a seminary at Ewood Hall near Mytholmroyd. In 1811 he was made an honorary Doctor of Divinity by Brown University USA, and he has always been an important figure for American baptists.
OTHER MINISTERS
The first minister at Wainsgate, from 1750 to 1763, Richard Smith is buried in the graveyard, his grave marked by a simple table tomb. Despite a short life dominated by pain and illness he was noted for being 'eminently conscientious, avoiding conformity to the world, and bearing his testimony against the prevailing vices and irregularities of the times in which he lived'. It was once said of his preaching that 'this man's words fall on us like millstones'.
John Bamber, minister at Wainsgate from 1855 to 1878, was responsible for rebuilding the chapel and Sunday school in 1860. Born in Lancashire, he is buried at Inskip, but commemorated by a memorial plaque in the chapel and a headstone in the graveyard.
One of the most popular ministers at Wainsgate was James Jack. Born in Scotland, he came to Wainsgate in 1901, moving to Bingley in 1906. The second of his two daughters, born in Bingley in 1906 but presumably conceived at Wainsgate, was named Jeannie Munro Wainsgate Jack, and she and her parents are buried in the place that they obviously had a great affection for.