WAINSGATE'S RICH MUSICAL HERITAGE
Wainsgate has always been associated with music, and particularly with choirs. In some cases, people have been involved in music and choirs at Wainsgate over several generations, like the Ashworth family.
THE ASHWORTH FAMILY
Richard ASHWORTH (1822-1892)
Albert Richard ASHWORTH (1863-1933)
Raymond ASHWORTH (1899-1974)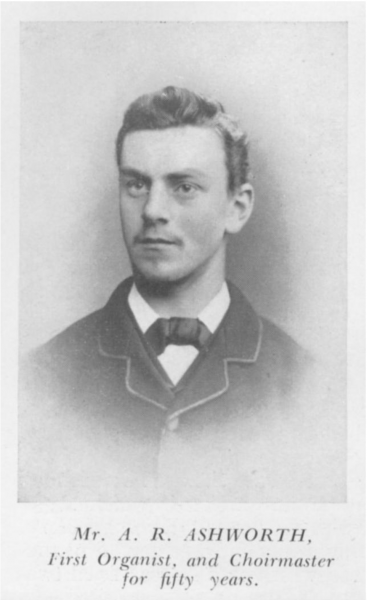 Born in Wadsworth, Richard Ashworth was at various times a weaver, carter and farmer, and was the first Secretary of Wainsgate Musical Society, established in 1843, which formed the basis of the chapel choir. He married Grace Ingham in 1847, and they had nine children (Sarah, James, William, Edwin, Ann, John, Mary Jane, Albert Richard and Alice). The total length of service in Wainsgate Choir of these nine brothers and sisters totalled 406 years, with their youngest daughter Alice Ashworth, noted for her rich contralto voice, serving for 63 years until her death in 1943. James Ashworth played the harmonium, and was Choirmaster prior to his younger brother taking over. Richard, Grace and Alice are all buried in Plot A495.
Albert Richard Ashworth was organist at Wadsworth from 1891, when the organ was installed, until 1894 when he resigned in order to devote more time to his duties as Choirmaster and was replaced by John William Parker. He was Choirmaster for over 50 years, and under his leadership the choir took first prize at the Nonconformist Choir Festival at Crystal Palace in 1908. He also composed several hymn tunes, whose titles included 'Boston Hill', 'Wainsgate' and 'Vernon'. In 1897 he married Hannah Vernon, born in Staffordshire, and they had six children (Vernon, Raymond, Harry Norman, Margaret Grace, Gwendolen Mary and Edward), all of whom were members of the choir. Their eldest son Vernon Ashworth was killed in Flanders in 1917, aged 19. Albert and Hannah are buried in Plot C664, together with Raymond, Raymond's wife Agnes Marie (known as Nan), Harry Norman and Edward.
On Albert's death in 1933, the congregation, unable to contemplate a future for Wainsgate Choir without an Ashworth at the helm, appointed his son Raymond Ashworth as Choirmaster, a position which he held from 1933 to 1974. He is commemorated with a brass plaque on the front of the organ:
His love for and devotion to Wainsgate, often in difficult years, is an inspiration to all. 'Blest be the tie that binds'.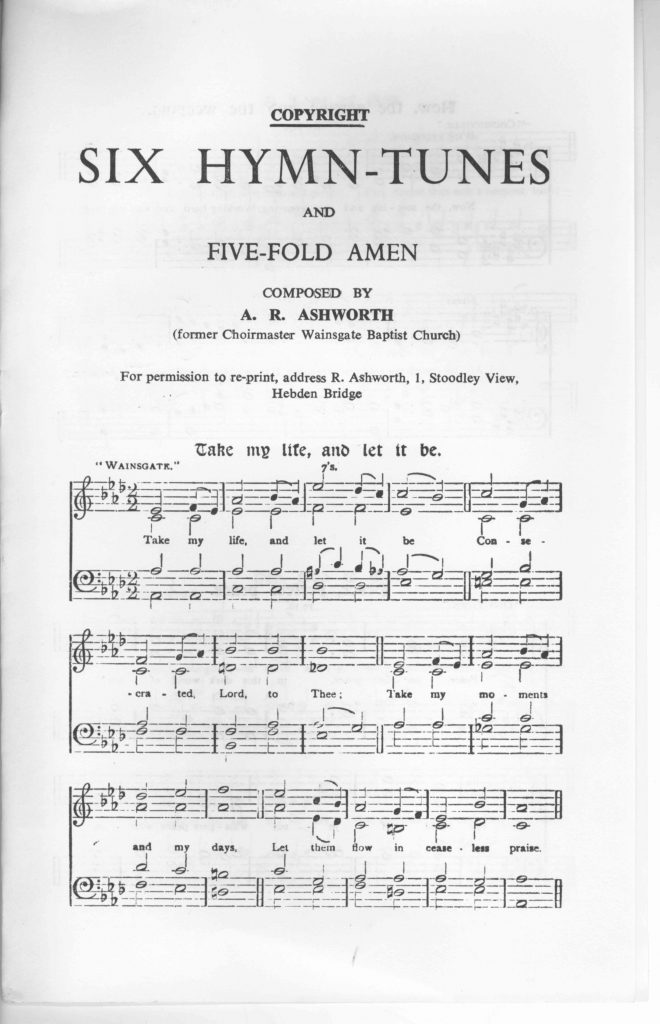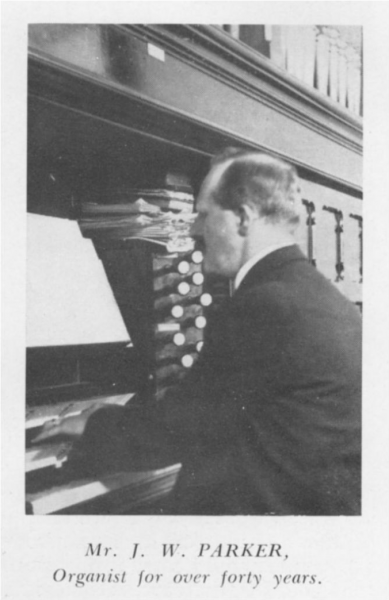 John William PARKER (1874-1954)
Organist at Wainsgate from 1894, when he took over from Albert Richard Ashworth, until 1931, when he was replaced by eighteen year old James Stansfield. He accompanied the choir at their prize winning 1908 Crystal Palace performance, and also came out of retirement to cover for his successor when he was called up for war service. he is buried in Plot B1172/177a.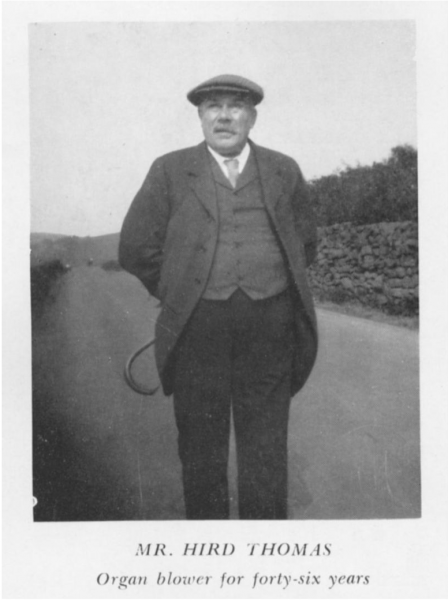 Hird THOMAS (1870-1942)

The son of John and Ann (born Hird) Thomas, he was brought up at Old Hold and Dick Ing farms.
He was the organ blower at Wainsgate, a position he held devotedly from the installation of the organ in 1891 until its electrification 46 years later.
He was almost blind, and was said to have a 'complete and childlike faith which supported him all his days'. When on his death bed he was asked about his attitude to approaching death, his confident reply was apparently 'It'll nowt be like dorfin' mi coit'.
He didn't marry, and is believed to be buried with his parents, although the grave (Plot F734) is unmarked.