CERTIFICATION PROGRAMME OF MOVEMENT ANALYSIS AND SOMATIC PRACTICE
INTERNATIONAL SOMATIC MOVEMENT EDUCATION AND THERAPY ASSOCIATION

SUMMER 2024 – SUMMER 2026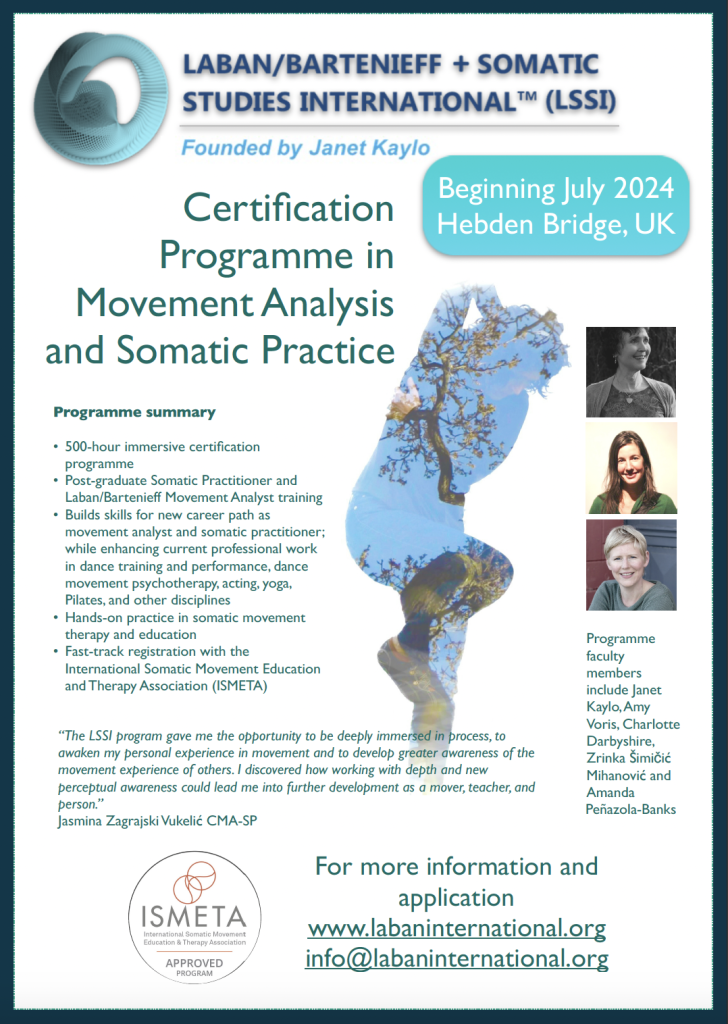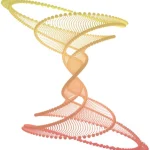 HEBDEN BRIDGE, WEST YORKSHIRE
Venue: Wainsgate Chapel
Module 1: July 15-August 2, 2024
Module 2: January 6-14, 2025
Module 3: July 14, 2025 – August 1, 2025
Module 4a: September 2025 – June 2026 Online
Module 4b: July 15-26, 2026 (tbc)
Please Note:
Module 2 will include online sessions, one weekend per month, February-June 2025.
Module 4a will begin with online sessions, one weekend per month, concluding with ten days in-person for Integration and Application in Module 4b.
---
CERTIFICATION PROGRAMME
In addition to training in Laban/Bartenieff Movement Studies (LBMS/LMA) this programme builds skills needed for working as a Somatic Practitioner, including study in Bartenieff Fundamentals, elements of body systems, witnessing and processing experience in Authentic Movement, and developmental aspects included in the Kestenberg Movement Profile.
All modules are approached through phenomenological, somatic methodologies and perspectives, and include hands-on training for practice as a Somatic Movement Therapist and/or Educator. Graduates receive a Certificate from LSSI as a Movement Analyst and Somatic Practitioner. This programme meets the standards of practice as outlined by the International Somatic Movement Education and Therapy Association (ISMETA) as an approved training programme, and all faculty are registered with ISMETA. Graduates qualify for fast-track registration with ISMETA without need for further somatic training hours.
For application form and instructions, click below
WHAT STUDENTS RECEIVE
Thematic Modules in Body/Shape/Effort/Space that allow for deep immersion into each category of BESS, building on a cumulative, developmental model of learning.
500 total hours in professional training in Movement Analysis and Somatic Practice.
One-to-one meetings with an Advisor/ faculty member, as well as small group practice sessions between in-person sessions.
An Advisor's feedback on interim homework projects, assignments, and assessments;
Individual peer and group feedback in class sessions; as well as personal time for exploration, discovery, reflecting, and writing during class hours.
Learning in a dynamic group environment with a high teacher-to-student ratio
Final Research Application Project shared as formal presentations with your training group.
Hands-on re-patterning practice and training in Bartenieff Fundamentals practice; as well as other extended developmental and body systems approaches to movement re-patterning.
Training in comprehensive movement and language skills used in dance, theatre, performance, movement research, teaching, clinical work, bodywork, yoga, Pilates, and dance movement therapy
LSSI Certificate in Movement Analysis and Somatic Practice – CMA-SP.
CMA-SP fulfills the requirements for fast-track registration with the International Somatic Movement Education and Therapy Association (ISMETA) as a Somatic Movement Therapist and/or Educator
Potential new career paths as a movement analyst and somatic practitioner, as well as supporting current work in yoga, Pilates, acting, dance training, coaching, therapy, etc.
FEES

:
MODULE COURSE FEES

$3,500 USD per module
Four (4) IN-PERSON MODULES PLUS ONLINE WEEKENDS INCLUDED IN MODULES II and IV.
$500 USD due 60 days prior to Module start date. $3,000 USD due 30 days before start date

TO APPLY FOR THE PROGRAMME, PLEASE CLICK BELOW
Note: If you have not had introductory level experience in LMA/LBMS or Bartenieff Fundamentals, (minimum 15 hours in each), please write [email protected] to inquire about Introductory courses available.
For more information contact: Janet Kaylo, Founder and Director of Laban/Bartenieff and Somatic Studies International™.